Zeeshan Khan, CEO of Beyond Smart Group
A young man from Bhopal, Zeeshan Khan, started his company Beyond Smart three years ago; a highly diversified company that works in various sectors such as Infrastructure, Manpower, Automobile, Technology, Medical, Food & Art industry. With nearly 10 companies under his kitty, Zeeshan is raring to go and has no plans of slowing down anytime soon. A freestyle bike rider prior to taking the leap into entrepreneurship, Zeeshan also appeared in MTV's stunt mania in 2011. A visionary he seeks to become a global leader in integrated business and is well on his way to do so through sustainable growth, knowledge excellence and exemplary governance practices throughout all his businesses. Zeeshan has always looked to make an impact globally, a pressing matter close to his heart are environmental issues, which he wants to solve so that the future generations are able to enjoy the beauty around them.
Zeeshan envisions a cleaner and greener India, which does not use plastic at all. Globally, the Environment Services market has reached $600 Billion in 2016 and India stood as the 3rd largest environmental technologies market worldwide. India is also the 5th largest e-waste producer in the world with 1.8 million tons of e-waste generated every year which is expected to rise to 5.2 million tons by 2030. These statistics encouraged Zeeshan to get started as recycler but later when he came into this business, he got to know the seriousness of the environmental problems and how we are polluting our environment. He understood the plans to protect air and water, wilderness and wildlife are in fact plan to protect mankind, thus he decided to dedicate his whole life for protecting the Environment and serving mother nature. Much like one of his idols Mahatma Gandhi he wants to be the change he wants to see in the world.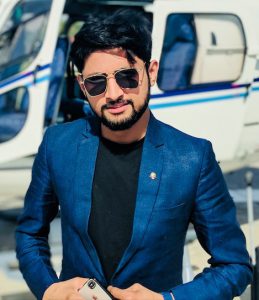 At a young age, Zeshan has showcased wisdom beyond his years and has learned from personal struggles, mistakes, and problems while trying to turn his failures into gifts, grooming and nurturing them with a goal and commitment to not be disappointed in the face of failure. Learning from the lessons he got from his grandfather, Zeeshan believes that opportunities are akin to roses which always come with thorns and till you struggle or face problematic situations, you are likely to be on the wrong track.
Zeeshan now has become a calculated risk-taker because of this, taking a step back to assess a situation when needed, always eager to learn and grow constantly, that has become one of the most unique factors to his success.
Success can be measured by awards and recognition which Zeeshan has achieved as he has been awarded Madhya Pradesh Ratan for Environment Protection in 2018, World Environment Day Hero, in 2019 for the air pollution campaign he ran, India Leadership Award 2019 for Environment Protection and Business Leaders Award 2019 for Environment Protection. Zeeshan has come to fray as a nature lover in the ever-competitive business market, where he looks to inspire more people to do so.